Writer | Reader | Dreamer | Maker
Variety Die Cut Bookmarks
00000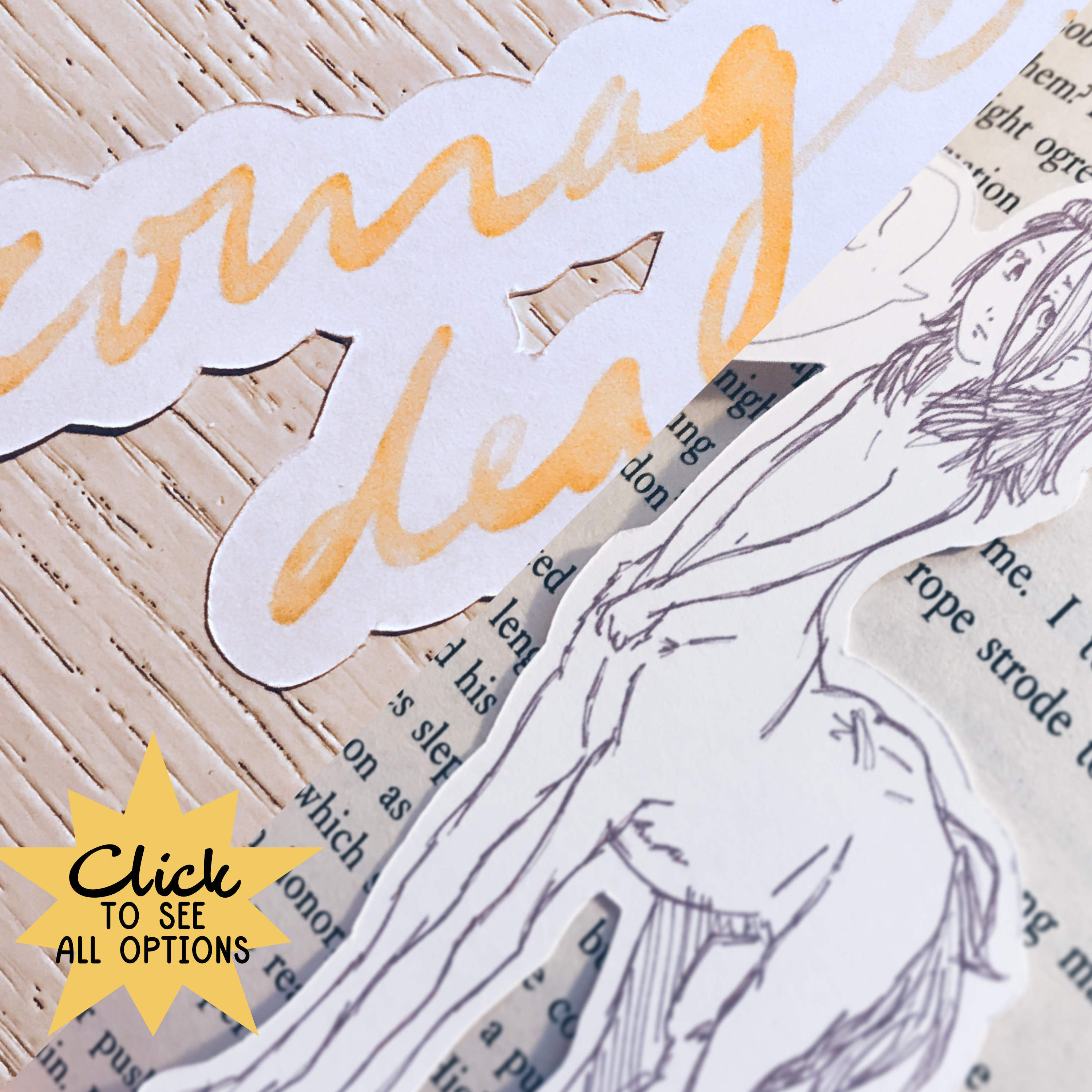 Variety Die Cut Collection | This collection features one set of die cuts, and two individuals.
The first set is the Fandom Set, which features an eclectic assortment of fandoms -- Ella Enchanted, Firefly, The Last Jedi, and The Chronicles of Narnia. Each of these were digitally hand-drawn by Baj, and can be printed in two possible ways -- either as XL size, which is approximately 5 inches wide per design, OR as minis, in which case you would receive this entire collection in smaller sizes, approximately 2-3 inches wide per design. You will be able to select your choice before adding to your cart! Price varies based on selection. NOTE: Minis can't be purchased individually, though XLs can.
The remaining die cuts in the collection are both only available as XLs, and can be purchased individually or as part of the entire variety collection. The first, Baj's favorite Wonder Woman quote, was hand-drawn by Baj. The second, "sweata weatha", is an ode to a skit performed on Saturday Night Live by Amy Poehler and Maya Rudolph.
This is a preorder, set to ship in 1-3 weeks
Exact sizes vary due to hand-cutting; see photo for approximate scale in size
Back is plain white, may contain my logo
Semi-thick 110 lb white cardstock, matte without any finish
No lamination
All bookmarks are shipped in a high-quality insulated poly bubble mailer via USPS First Class Mail
Please keep in mind colors on a screen may vary slightly from how they appear in person, or how they display on one viewing device from another due to the color calibration of your device or monitor
Click on the images to see a larger view, and enable the zoom feature in the upper right corner in this mode to view images close up.
- - - - - - - - - - - - - - - - - - - - - - - - - - -
Feeling lucky? Roll the dice and get a random set! Check out the GRAB BAG product below for the terrific value of 7 random bookmarks for $10.
_____________________________
Follow me on social media >>
Instagram | @bajgoodson
Facebook | @bajgoodsonauthor